SPEAKER SERIES 2018
Upcoming Speakers
Friday, September 7th, 2018, 7PM. Doors open at 6:30PM
Events on Emerson
212 4th Street, Hoquiam
Admission $15.00, no one turned away
The Grays Harbor Institute proudly presents as its Fall Speaker
Professor Stephen A. Bezruchka, Senior Lecturer, Health Service and Global Health.  He has been involved in international health issues since the 1970s when he set up the Dhorpatan Health Project in Nepal.
His topic with be
Why is Our Health Declining in the United States?
For several years now length of life in the United States has been declining.  As well maternal mortality has risen 50% in the last fifteen years.  This is happening despite spending more on health care than the rest of the world combined.  What produces health in a society?  The nature of caring and sharing relationships trump personal behaviors, health care, and many other factors.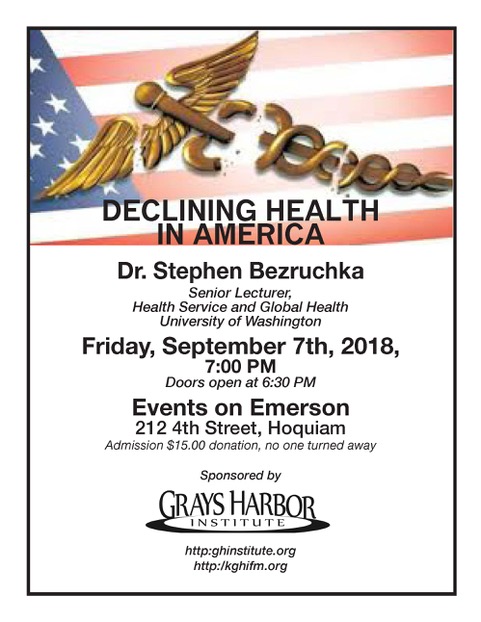 About half of our health as adults is programmed in the first thousand days after conception.  Healthier societies privilege this period.  As one of the only two nations in the world without a nationally mandated paid parental leave policy, we do not.  Politics determines how we care for and share with others.  The key 'medicine' we need is political.  This session will explore what produces health, why we in the USA are dead first and what needs to be done.
| | |
| --- | --- |
| Alexander Cockburn | October 14, 2005; October 19, 2006 |
| Stephanie Coontz | May 5, 2006 |
| Dennis & Elizabeth Kucinich | March 30, 2007 |
| Angela Davis | April 18, 2007 |
| Mike Farrell | October 19, 2007 |
| Cliff Mass | May 4, 2007 |
| Father Roy Bourgeois | April 11, 2008 |
| Governor Booth Gardner | October 17, 2008 |
| Richard Shenkman | May 1, 2009 |
| Orrin Pilkey | October 23, 2009 |
| Anne Feeney | July 14, 2010; April 17, 2014; July 5, 2015; July 26, 2017 |
| Melissa Harris-Perry | June 24, 2011 |
| Michael Parenti | September 7, 2012 |
| Sharon Wallace | February 15, 2013 |
| Thomas Frank | November 24, 2015 |
| Fawn Sharp | October 28, 2016 |
| David Barsamian | February 22, 2018 |